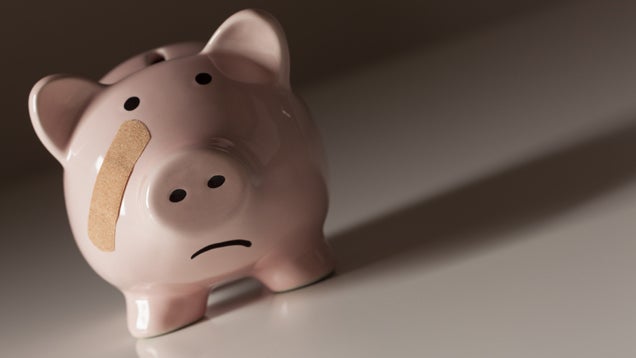 It's been a long month, and my checkbook is telling me it's been over a couple of weeks ago…
I did do quite a bit of online shopping this month, both for household replacement pieces…i.e. kitchen pots, pans, and other personal care items (make-up, subscription boxes, lotions and potions….you know, misc. stuff).  QVC and Amazon had been my best buddies as I collapsed relaxed on the couch over the past couple of weeks.
Nonethless, I still managed to keep most of my financial goals intact.
Here is my monthly update on my 2015 Financial Goals:
Pay for two years of college tuition, room and board $2,600/mos. 

On track.

Graduation, dorm, travel and other miscellaneous expenses for my two college students. $2,000 by July.

Nothing saved for this yet.



Fund our HSA (Health Savings Account) to the maximum limits. ($6,650.00 -by December, 2015) This may be a bust.  We will be able to put $1000 in by March, but I'm not sure we'll reach the $6,650 mark by the end of the year.

Pay cash for our summer vacation to the beach, including spending money, excursions and meals. $2,500 by June 

On track.

Max out 401K for the year. 

On track PLUS some. 

I just upped my contribution to allow for less of a tax burden.
Contribute to daughter's wedding expenses, including dresses, tuxes, bridal shower, rehearsal dinner. 

DONE!

  This will be the last time I list this in an update as the goal has been completed.
Stick to food, clothing and gift budgets. $900/mos. Hahahahahahahahah.  Which means, no, not this month.

Keep a self-care account. $200/mos.  On track and then some…. With all of the subscription boxes, and getting hair and nails done this month, I went a little lot over budget…
Fund all variable expenses: insurance, taxes, Christmas, home/car maintenance, homeowners association fee, water bill. 

On track.

  Since I didn't need to borrow from savings to pay for the car repair, I feel good about being on track here.
Save $3,000 – $5,000 for emergencies.  $250 – $400/monthly. 

Nothing put away here. 

I decided not to work the extra hours at my part time job (I'll expain that one in another post) so there wasn't a lot of extra

money to put into the EF.  Hopefully that will change next month when I hope to will stop all the extra spending.

Charitable Giving.  $400/mos. 

On track.
How are you doing on your financial goals?  Was January a win or a bust?